Access
The nearest station for east area is Iryo Center Station, and for south area is K Computer-Mae Station on Port Liner.
From Sannomiya or downtown Kobe, take the Port Liner train from Sannomiya Station.
It takes about 13-15 minutes to Iryo Center Station or K Computer-Mae Station.
Note:This is just an example.
Note:Take the Port Liner bound for Kobe airport, not for Kita Futo.
Getting to Sannomiya
Shinkansen (Shin-Kobe Station)
Shin-Kobe Station→Sannomiya Station (Kobe City Subway): 2min (210yen)
Train (JR、Hankyu、Hanshin)
Osaka Station(JR)→Sannomiya Station(JR):21min (410yen)
Umeda Station(Hankyu)→Kobe-Sannomiya Station(Hankyu):27min (320yen)
Umeda Station(Hanshin)→Kobe-Sannomiya Station(Hanshin):31min (320yen)
Limousine bus
Itami Airport→Sannomiya:40min (1,050yen)
Kansai International Airport→Sannomiya:65〜75min (1,950yen)
Access to each area
Kobe Campus West Area
Port Liner
Sannomiya→Iryo Center Station: 12min (250yen)
Kobe airport→Iryo Center Station: 6min (250yen)
Access to Developmental Biology Buildings
Take the west exit, and go down the stairs and turn right at the first corner, without crossing the street.
Continue along the street, the Developmental Biology Building is located on your right side. (3min)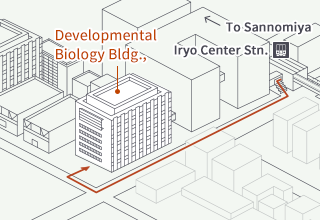 Kobe Campus East Area
Port Liner
Sannomiya→Iryo Center Station: 12min (250yen)
Kobe airport→Iryo Center Station: 6min (250yen)
Access to KOBE MI R&D Center Building
Exit the gate, go to the right pedestrian deck and turn left at the first corner and turn left at the first corner. The pedestrian deck connects directly to the KOBE MI R&D Center Building, the four-story white building. (2min, the reception desk is on the second floor, the same as the pedestrian deck.)
Access to Integrated Innovation Building
The Integrated Innovation Building is located next to the KOBE MI R&D Center Building. As you exit the gate, go to the right pedestrian deck and turn left at the first corner. Turn right at the next corner and then left to enter the Integrated Innovation Building. (3min, the reception desk is on the second floor, the same as the pedestrian deck.)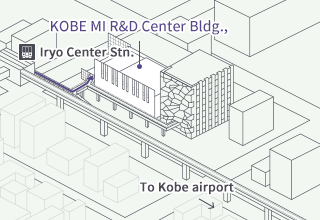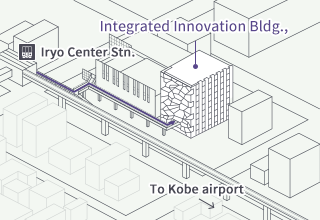 Kobe Campus South Area
Port Liner
Sannomiya→K Computer Mae Station: 15min (280yen)
Kobe airport→K Computer Mae Station: 4min (250yen)
Access to Computational Science Research Building・Computer Building
Go down the stairs and go along the street.
The (Computational Science Center) Building is just on the other side of the crosswalk. (3min)
More details for each area